News
Prison crisis: At least 41 prisoners die in a new confrontation in a prison in Ecuador | International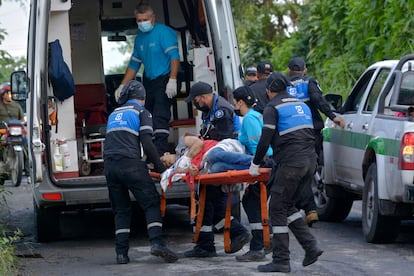 The prison crisis in Ecuador adds another 41 inmates dead, most of them by knives, in a new confrontation inside the Santo Domingo prison, in the north center of the country, according to Interior Minister Patricio Carrillo, on Monday afternoon. . Previously, President Guillermo Lasso sent a message in which he related the altercations from Sunday to Monday with violence between gangs.
Since the first major riot was recorded in the prison system in February 2021, with a coordinated attack on three prisons that left 78 dead, the prisons of the Latin American country have registered more than 300 victims in 15 months. The most serious incidents have occurred during Lasso's mandate, who blames previous governments for having been permissive with organized crime in the national territory.
The new general commander of the Police, Fausto Salinas, who has held the position since last week, attributed the latest incidents to the transfer to the Santo Domingo prison from the Turi prison in Cuenca, to the leader of a rival gang. In this center, there was a riot with 20 deaths last March and it was one of the three in which the wave of prison clashes broke out in 2021.
In addition to the fight between gangs, in the Santo Domingo prison there has been an escape attempt this Monday after which, according to the official count, at least 80 inmates have been recaptured. The Ecuadorian police continued mid-morning on Monday in tasks of "location, capture and restoration of order" in the Santo Domingo prison. In the penitentiary center, which has the capacity to hold 914 prisoners, there are actually more than 1,600, with overcrowding exceeding 80%.
Parallel to the prison crisis, Ecuador has been dealing since last year with a wave of violence that has skyrocketed the number of murders, especially those committed through hired assassins, and that has led to the declaration of recurrent states of exception and emergency to increase police and military strength in the streets and impose curfews. The last state of exception was decreed two weeks ago, without stopping violent deaths. Counted up to March, there are 959 homicides in Ecuador. Last year, there were almost 2,500, 80% more than in 2020.
Subscribe here to the EL PAÍS América newsletter and receive all the key information on current affairs in the region.
Join EL PAÍS to follow all the news and read without limits.
subscribe