World
Memorandum of Understanding between the UAE, Jordan and Israel for projects facing the repercussions of climate change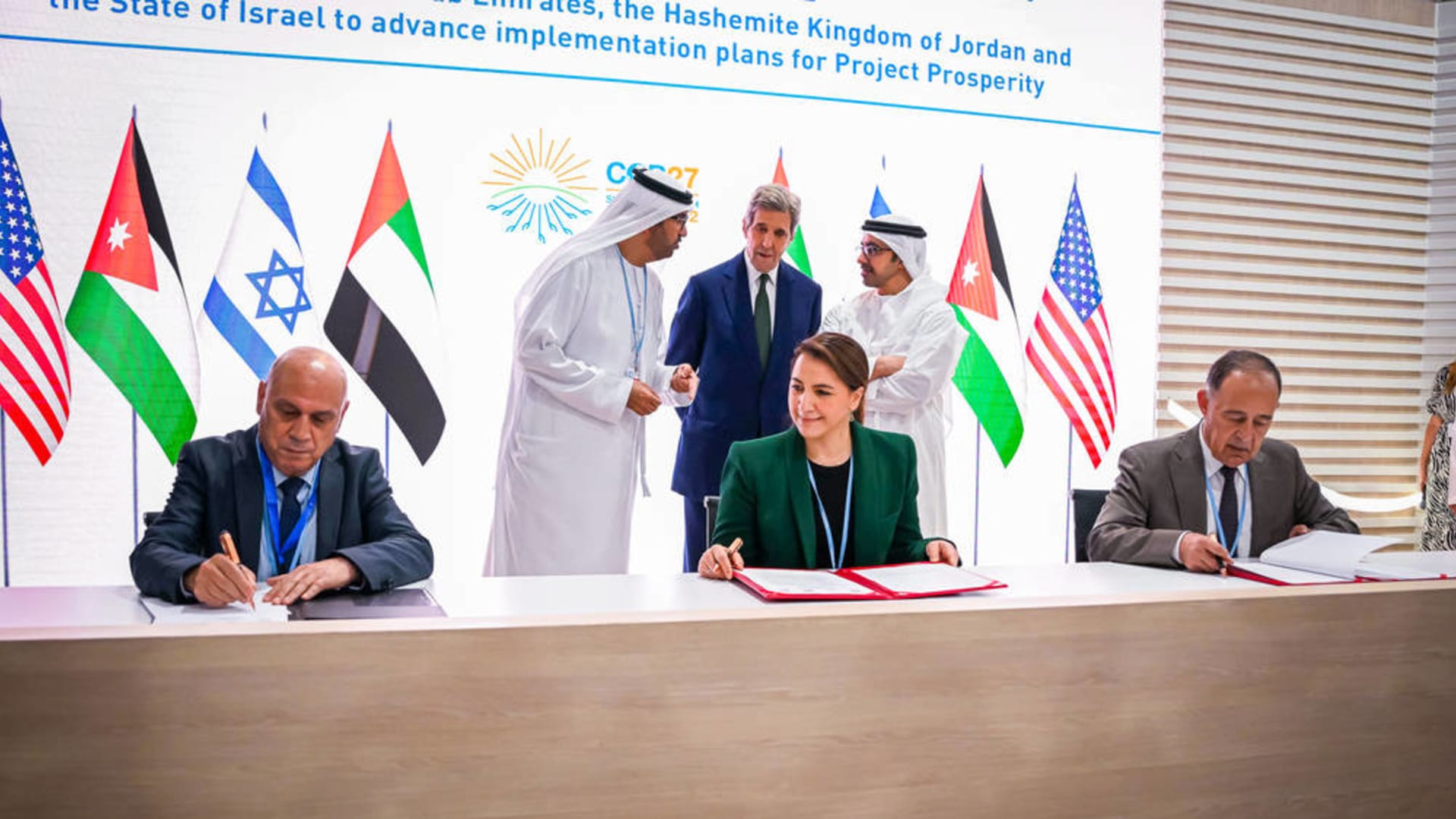 Dubai, United Arab Emirates (CNN) – The United Arab Emirates, Jordan and Israel signed, on Tuesday, a memorandum of understanding during the Conference of the Parties on Climate (COP27), with the aim of establishing purposeful projects to address the repercussions of climate change, including the production of clean energy and sustainable water desalination, the agency reported. The official Emirati news (WAM).
Sheikh Abdullah bin Zayed, Minister of Foreign Affairs and International Cooperation of the UAE, attended the signing of the Memorandum of Understanding, along with Dr. Sultan bin Ahmed Al Jaber, Minister of Industry and Advanced Technology, UAE Special Envoy for Climate Change, and John Kerry, US Presidential Special Envoy for Climate Affairs.
The signing of the memorandum of understanding comes within the framework of the "Prosperity" project, which is based on two axes, the "Green Prosperity" program, which includes the development of a photovoltaic solar power plant with a production capacity of 600 megawatts with a storage system for electrical energy in Jordan to produce clean energy and export it to Israel.
The second axis is the "Blue Prosperity" program, which aims to develop sustainable desalination projects in Israel to supply Jordan with about 200 million cubic meters of desalinated water annually.
The three countries signed initial intentions to explore the economic feasibility of these projects, during the Dubai Expo, which was held in the UAE last November.
The UAE, Jordan and Israel will finalize the formulation of implementation plans in conjunction with the holding of the "COP28" climate conference in the UAE next year.
The "Prosperity" project aims to contribute to confronting the repercussions of climate change and its effects on water and energy security in the Middle East, and to increase reliance on renewable energy.