World
Including Gulf countries… New documents reveal the expenditures of foreign governments at the Trump Hotel in Washington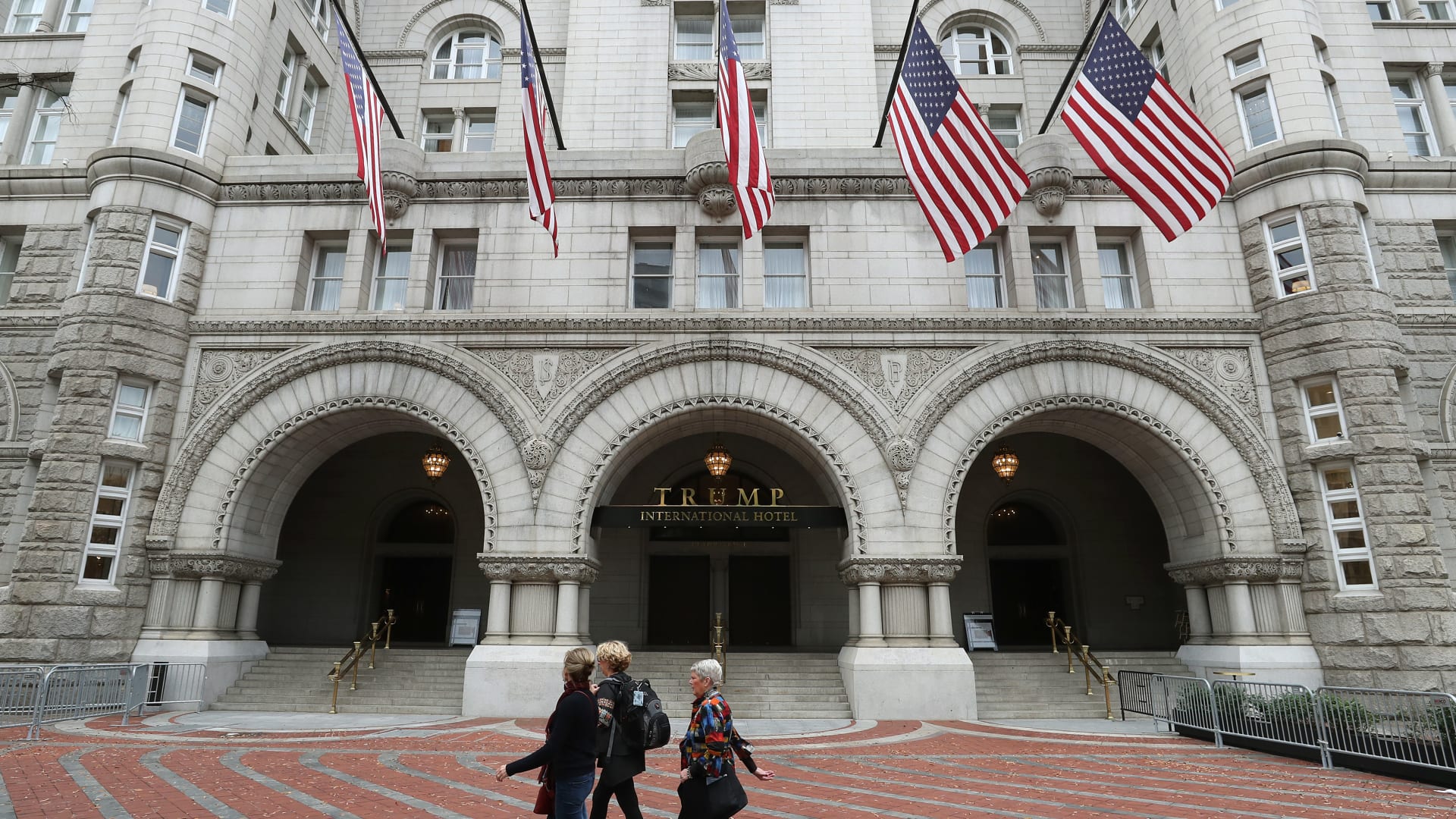 (CNN) Newly released financial documents revealed that the governments of six foreign countries, including Saudi Arabia, Qatar and the United Arab Emirates, spent more than $700,000 on former US President Donald Trump's Washington hotel during the first two years of his presidency.
The new documents provide concrete evidence of foreign governments spending money directly with Trump's companies, which Democrats on the House Oversight Committee say raises new questions about potential efforts to influence the former US president through his companies while he is in the White House.
The hotel's accounting records were obtained by the House Oversight Committee through Trump's former accounting firm Mazars, and provided to CNN.
The committee, which investigated Trump's business and lease of property from the government, was provided with the records after a years-long court battle that ended in a settlement in September.
While foreign delegations stayed at the hotel during Trump's time in office, the documents, which include expenditures from China, Saudi Arabia, Qatar, Turkey, Malaysia and the UAE, provide the first detailed accounting records of those stays.
The Trump Hotel, which he opened in 2016, has become a magnet for Donald Trump loyalists, Republicans and lobbyists hoping to reach administration officials.
The hotel has long been a source of criticism from Democrats, who have accused Donald Trump of violating the Emoluments Clause of the Constitution, which bars a president from receiving "an emolument or profit from any foreign king, prince, or state" unless approved by Congress.
Spending on record included more than $250,000 by Malaysia, more than $280,000 by Qatar, more than $90,000 by Saudis, and more than $74,000 by the UAE.
In addition, lobbyists and other companies with ties to foreign governments have poured tens of thousands of additional funds into Trump's Washington properties.
There is no evidence that foreign spending at the Trump Hotel, which was sold by the Trump Organization earlier this year, directly affected US politics, but many stays at the hotel coincided with important foreign policy events, including meetings between Donald Trump and Trump. And other foreign leaders and the efforts of the United States to resolve the crisis of the four countries boycotting Qatar in 2017.
The committee sent a letter Monday to the National Archives detailing portions of what was in the partially redacted accounting records and requesting additional presidential records related to the Trump hotel and foreign governments "to determine whether former President Trump distorted American foreign policy to serve his own financial interests."
House Oversight Committee Chair Carolyn Maloney said in a statement to CNN: "These documents seriously raise the question of the extent to which President Trump's personal financial interest while in office is directed at the expense of looking after the best interests of the American people. These documents, which the committee continues to obtain from (Mazars) It will guide our legislative efforts to ensure that future presidents do not abuse their positions of power for personal gain."
A National Archives spokesperson told CNN that they "received the letter and will respond in accordance with the Presidential Records Act."
The committee's announcement of Trump's financial documents comes a day before Donald Trump makes a "special announcement" at his Mar-a-Lago resort in Florida, where the former president is expected to launch another campaign to run for president in 2024.
Trump's business dealings, as well as those of his family members, have been under scrutiny for years, and continued in the months after he left office.
The House Oversight Committee began receiving financial documents from Mazars in September after reaching an agreement to end litigation over the documents, and the committee first subpoenaed the company for Trump's financial records related to his hotel in April 2019.
It is not clear what other expenditures at Trump's former Washington hotel from other governments are listed in documents provided to the committee, or how much foreign spending contributed to the hotel's total revenue.
CNN has reached out to the embassies of countries listed in the House censorship documents for comment.
"As a company we've gone to great lengths to avoid conflicts of interest, not because of any legal requirements, but out of respect for the office of the presidency, we've walked away from billions of dollars in new deals, and we've stopped expanding," Eric Trump told CNN in response to questions about overseas spending. We have engaged with outside legal counsel to review any material transactions, and furthermore, we have voluntarily donated on an annual basis all profits from foreign government sponsorship of our properties to the US Treasury Department.
Trump Hotel spending during the Qatar boycott crisis
After Saudi Arabia, the United Arab Emirates, Bahrain and Egypt imposed a boycott of Qatar in 2017, Riyadh, Abu Dhabi and Doha not only publicly pressed Trump for his support in helping resolve the crisis, but also spent hundreds of thousands of dollars on the former president's hotel, they show. Documents provided to CNN.
Documents obtained by the House Oversight Committee show spending by the governments of the three Gulf states at the Trump Hotel from late 2017 through mid-2018, including large payments to book rooms for senior foreign officials at a time when they were actively looking for support from the Trump administration in crisis. interrupt.
At the time, the crisis inflamed tensions between then-US Secretary of State Rex Tillerson and Trump's son-in-law, Jared Kushner, who was briefed by Saudi and UAE leaders on their governments' plan to impose a boycott on Qatar one month before implementation.
In her letter to the National Archives, Carolyn Maloney specifically noted that both Saudi Arabia and the United Arab Emirates spent tens of thousands of dollars at the Trump Hotel during a critical 9-day period in March 2018.
The timing of the spending overlapped with Tillerson's firing on March 13, with Maloney reporting that "Saudi and Emirati officials have been pressing President Trump to fire (Tillerson) for his role in stopping the Saudi invasion of Qatar last summer."
Earlier this year, Rex Tillerson testified during the trial of Tom Barrack, a Trump ally who prosecutors accused of acting as an unregistered agent for the United Arab Emirates, during which he said the former president came up with the idea of ​​holding a Camp David summit between the three countries to end the boycott after support it at first.
The court found Barrack not guilty, but Tillerson's testimony provided unique insight into the former president's personal role in trying to broker a solution between the three countries after initially backing the UAE and Saudi governments.
Between March 7-14, 2018, the Saudi Ministry of Defense spent $85,961, including renting several suites worth $10,500 per night that were the most expensive rooms at the Trump Hotel, according to Maloney's letter and documents obtained by the committee.
Maloney added that while the names of the Saudi officials were not included in the documents, two are referred to as "His Excellency," indicating that they are members of the royal family or senior ministers in the government.
Separately, a military delegation from the UAE Embassy spent $34,037 on rooms at the Trump Hotel from March 8 to 16, 2018, documents show.
Days after Saudi and Emirati officials stayed at the Trump Hotel, Trump met with Saudi Crown Prince Mohammed bin Salman at the White House, where they discussed the situation in Qatar and the intensification of US arms sales to the Saudis. During the meeting, Trump praised Mohammed bin Salman and called Saudi Arabia a "great friend."
It is not clear if Mohammed bin Salman, the de facto ruler of Saudi Arabia, has stayed at the hotel.
The Qatari government has also spent hundreds of thousands of dollars at the Trump Hotel as of late 2017.
"Between January and early March 2018, the Al Thani family, the ruling family of Qatar, booked an extended stay at the Trump Hotel, spending no less than $282,370," Maloney said in her speech.
Expenses associated with Turkey
The House Oversight Committee highlighted advocacy groups and lobby groups linked to the Turkish government spending at least $86,000 at the Trump Hotel while the Justice Department was investigating Halkbank, a Turkish state-owned bank, for evading US sanctions by funneling money. and gold to Iran.
Prosecutors had already charged several individuals, including a close associate of Turkish President Recep Tayyip Erdogan.
CNN said that Erdogan urged Trump in a phone call to drop a possible indictment from the Justice Department against Halkbank, and Trump responded that he would ask to look into the matter.
CNN reported earlier that then-US Attorney General Bill Barr personally led efforts to negotiate a settlement with the bank that would allow him to avoid indictment.
Jeffrey Berman, the US Attorney General, insisted on the criminal prosecution, and later wrote in his memoirs about his time as US Attorney General, that he believed Barr was doing what Trump asked him to pressure his office to drop the charges, and Berman was fired after 8 months.
Over a seven-month period, beginning in September 2017, Trump lobbyist and donor Brian Ballard spent $21,209 at the Trump Hotel, according to Maloney's letter and committee records.
Turkey paid a subsidiary of Ballard $4.6 million over two years, and he also worked at Halkbank as a lobbyist for his defense.
"Prior to buying a condo in Washington in 2018, I stayed at a number of hotels in Washington, including the Trump Hotel, and paid fair rates for those nights," Ballard, who has not been charged with any wrongdoing, told CNN. "There is nothing unusual, newsworthy, or newsworthy." observing this fact.
The oversight committee said records show that one day after Ballard signed off, a blog noted that "the American Turkish Council, an association of businessmen whose goal is to develop and improve trade, defense, technical and cultural relations between Ankara and Washington, was He deposited $65,139." The committee said the board held two conferences at Trump venues.
According to Maloney's letter, there were hotel stays sponsored by the Turkish embassy around the time of Erdoğan's visit to Washington in May 2017, though it is unclear from the records how much the embassy spent on these stays.